The Best Tree Service in Lincoln, CA
At Fallen Leaf Tree, we pride ourselves on being the premier tree service company in Lincoln, CA. Our highly-skilled team of arborists are second-to-none when it comes to dependability, experience, and value. Whether you need general tree maintenance for your home or comprehensive commercial tree management plans, you can trust Fallen Leaf Tree to get the job done right. Our tree company provides a complete range of services that covers everything from small residential tree maintenance jobs to large commercial projects. We are licensed and insured to give our customers peace of mind when we're on your job site.
Tree Pruning & Maintenance in Lincoln, CA
Proper tree pruning has a number of benefits for both the landowner and the tree. Tree pruning and trimming can go a long way with helping your trees stay healthy, safe and leave your property aesthetically pleasing which, in turn, increases the value. Our trusted team at Fallen Leaf Tree Care are just the experts that you need for tree pruning in Lincoln, CA. While you might think that tree pruning is just pruning, that is not the case. Our team prides ourselves in proper tree pruning which provides a number of benefits. When your trees are properly pruned, this reduces the chances of any weaker branches failing. Additionally, proper pruning limits disease, improves appearance and helps to control the size of the tree.
There are some key aspects of tree pruning that might seem perfectly harmless but, are in fact, the improper manner in which the process should be handled.  One example is tree topping. Many think that this is a common practice for tree pruning but it actually can damage your tree. Leave it to our team of licensed and insured experts to get the job done for consistently and correctly. Fallen Leaf Tree is your go to team for any residential and commercial property tree service and we will provide you with immaculate results every single time. Call us to today for your estimate!
Tree Planting & Establishment in Lincoln, CA
Whether you are looking for residential or commercial tree planting, Fallen Tree Leaf is just the tree service company to tackle the job! If you are looking for experienced technicians in Lincoln, CA, look no further. With years of experience, our trained arborists thrive to set up new trees while protecting them from the hazards of urban living.
Because our team is fully equipped with our own fleet of trucks and cranes, Fallen Leaf is fully capable of planting, moving and establishing trees of all sizes onto your property. If you are looking to get trees on your business property or at your home, reach out to us at Fallen Leaf Tree for a quote today and let us exceed your expectations by establishing new tree on your property right away!
Plant Health Care in Lincoln, CA
We all want to take care of our gardens and trees but our team at Fallen Leaf Tree understand the extensive time and labor required to maintain your property properly which is why you can count on us to do it for you! Our team understands that plant health care starts the moment you plant something from the soil that you select, the watering process and correct pruning and maintenance. These are just some of the reasons that choosing us as your professional tree and plant company in Lincoln, CA is beneficial to you.
We offer a variety of different plant health care services that include:
Tree and shrub fertilization
Soil analysis and amendments
Pest and disease control
Nuisance fruit abatements
Drought and water management
Tree pruning
Tree removal if necessary
Let our team of qualified arborists identify the root issue of your any health issues regarding your property and avoid any potential misdiagnoses that could cause more harm. A mistake to the health of your and the maintaining of your landscape can be a costly mistake to fix so, let us help you prevent this. Call our team of specialists for an estimate today and let the health of your plants thank you!
Our Services
Why Hire A Professional Tree Company?
Hiring a professional tree service in Lincoln, CA is always the best way to ensure that your tree service is handled safely and done correctly. Tree care can be a lot more time-consuming and difficult than many property owners originally think. To know how to care for trees properly, an arborist must understand how trees grow, how to prune them properly, and when trees should be removed. Our skilled arborists have years of experience in these areas. Prolonging the life of your trees is our ultimate goal. We want to see our customer's properties flourishing with healthy, robust trees.
Our tree care workers are certified through the International Society of Arboriculture, the standard of professionalism in the field. We spend an hour of in-house classroom time every week. This provides additional training in tree pruning, hazard recognition, insects, and disease. This means our certified tree workers guarantee you a safer and more beautiful tree. All of our certified tree workers are under the supervision of one or more of our certified arborists. This ensures your trees are pruned within industry standards set by the American National Standards Institute (ANSI) and the International Society of Arborists.
Why Choose Fallen Leaf Tree?
As longtime California residents, we understand the unique tree care challenges that local property owners face. We are experts in dealing with the East Coast's trees, climate, soil, and terrain. We take personal responsibility and pride in each tree we plant, prune, fertilize, remove or protect. For those in search of top-quality  Lincoln, CA tree services, look no further than our tree experts! We offer the best in both quality and customer service.
Call Now For A FREE Estimate!
If you are in need of tree services in the Lincoln, CA area, give Fallen Leaf Tree a call today. We will send an experienced tree professional to your property to give you a fast, free estimate for the project. Our team can handle a variety of tree services including small residential projects and large commercial properties. We are happy to serve the entire Sacramento area including Carmichael, Fair Oaks, Roseville, Folsom, El Dorado Hills, Rocklin, and Granite Bay. Give us a call today at (916) 447-8733 to get started. We look forward to working with you!
FAQ
Frequently Asked Questions
We are here to answer all your tree-related questions!
What tree services do you offer in Lincoln, CA?
We offer a wide range of tree services in Lincoln, including tree trimming, tree removal, stump grinding, and emergency tree services.
Do I need a permit to remove a tree in Lincoln, CA?
Yes, you may need a permit to remove a tree in Lincoln, depending on the location and size of the tree. You can contact the city's Urban Forestry Department to get more information and obtain a permit if needed.
How often should I have my trees trimmed in Lincoln, CA?
It's generally recommended to have your trees trimmed every 1-3 years, depending on the species and growth rate of the tree. Regular trimming can help maintain the health and appearance of your trees.
What should I do if a tree falls on my property in Lincoln, CA?
If a tree falls on your property, it's important to prioritize your safety first. Once it's safe to do so, you can contact a professional tree service to assess the damage and remove the tree safely.
How much does tree service cost in Lincoln, CA?
The cost of tree service varies depending on the type and scope of work needed. Factors that can affect the cost include the size of the tree, its location, and the complexity of the job. It's best to contact a tree service company for a personalized quote based on your specific needs.
Fallen Leaf Tree was started with the intention of raising the standards and quality of practices within our industry.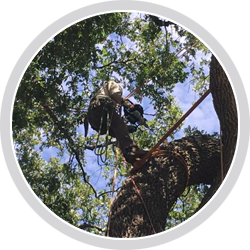 Proper tree pruning is essential to your tree's longevity, health, and appearance.  Our team of experts know exactly how and when to properly prune your trees.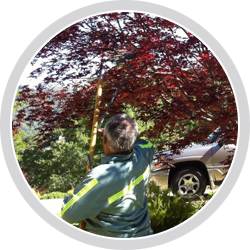 A landscape, whether on a residential lot or a large corporate complex, is an investment for the future. Making sure these investments are healthy requires regular maintenance.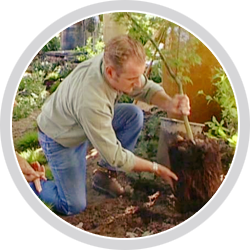 Fallen Leaf Tree offers tree planting and establishment services to bring trees back to your property and create a lush landscape for all to enjoy.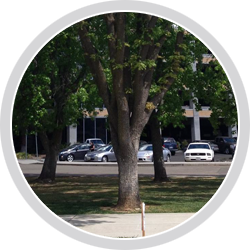 Root Crown Excavations are just one of the many tree care services offered by Fallen Leaf Tree. We also provide aerial assessments for the most accurate tree inventory and analysis.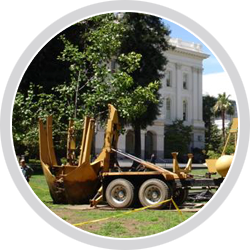 Trees not only provide aesthetic beauty, they're also a vital part of a healthier ecosystem.  Fallen Leaf knows the importance of preserving trees, and we want to make sure your trees live long, healthy lives!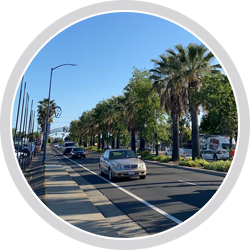 Tree plans may be requested for several reasons including new construction or land sales. Fallen Leaf Tree offers professional tree management plans and inventories.
It is vital to the nature of the company that its employees embrace a passion for doing great work and aiding in the education of each and every customer.

Highly Rated
Our clients come first, and that certainly shows in our many 5 star reviews we receive on Google and Facebook!

Licensed & Insured
We maintain licensed and insured status to ensure the safety of our team and our clients. We also are apart of the ASCA, ISA, and TCIA.

Get An Estimate
We'll provide you with a catered estimate and plan, so you know exactly what to expect through out the process.

Trained & Skilled Team
Our team is all trained rigorously and encouraged to continue further education throughout the year to ensure the best quality work for you!

Competitive Price
We like to keep our prices fair so that excellent tree service is affordable for you or your company.

Friendly Customer Support
We believe your whole experience should be fantastic, which is why we provide friendly and knowledgeable support!

Satisfaction Guaranteed
Safety is our greatest priority. We'll ensure that your property, and the people on it, are not at risk while we're at work. When we finish our work, we make sure to leave a clean work site behind. Customer satisfaction is more than just doing the job!

Expert Tree Care in the heart of Sacramento & surrounding areas with your satisfaction guaranteed. One of our Arborists can give you a comprehensive evaluation on all the trees and shrubs in your landscape and give you a scheduled maintenance plan. Call for an arborist consultation.
Powered by Tree Service Digital
Your content goes here. Edit or remove this text inline or in the module Content settings. You can also style every aspect of this content in the module Design settings and even apply custom CSS to this text in the module Advanced settings.